Leon plus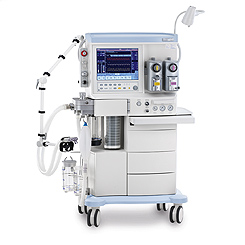 Anaesthesia assistance, equipped for example with ventilation performance in back breathing system on the level of an intensive respirator and precise electronic gas mixing in a wide flow range of 200 ml/min to 18 L/min. 15″ colour TFT monitor and gas sensor in various versions.
Leon Plus advanced specifications:
15'' coloured TFT touchscreen
Precise electronic gas mixture in a wide flow range of 200ml/min up to 18 l/min, thus usable from the semi-open to quasi-closed range
Various gas sensor options can be selected and integrated on the screen, with and without gas identifications
Optional view of 4 real-time graphs simultaneously
Monitoring of supply pressures with on-screen display
Complete data management with trend display
Pressure-supported spontaneous ventilation PSV (ASSIST)
Additional safeguard for protection from hypoxic gas mixture settings
Additional monitoring features optionally available
Ventilation Modes: IMV, SIMV, PCV, Man. Spont. SPCV, PSV, HLM
Optional : Software upgrade Neonates IMV/SIMV- Mode ; PCV/VTG Volume Guarantee Mode
Leon Plus is developed modularly as a genuine platform concept.
This modern anaesthesia assistant can be integrated completely in your specific work environment and trimmed exactly to your personal operations.
Leon Plus NEO
Its individual configurability guarantees maximum comfort and the optimum support during its introduction, in the operating room, during therapy and in every hospital system.