Leoni plus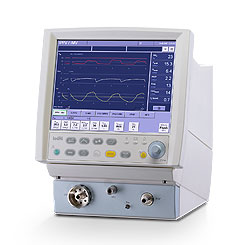 Leoni plus is suitable for long-term ventilation of very small premature infants, neonates and children weighing up to 30 kg. In addition to the basic ventilation modes CPAP, IPPV/IMV, S-IPPV and SIMV, the device also features two PSV ventilation modes.
In assisted ventilation modes there is a volume-controlled tidal volume guarantee available.
The precision hot-wire flow sensor at the patient end allows automatic readjustment of trigger sensitivity relative to the patient's tidal volume (VT trigger adaptation).
The extremely powerful, integrated high-frequency module Leoni HFO is of the diaphragm type.
All essential settings, readings, alarm limits and graphic information, such as waves and loops, are available at a glance.
In order to expand the range of possible uses Leoni plus features an integrated battery. This allows off-mains operation for up to 60 minutes in conventional ventilation modes and for up to 30 minutes in HFOV.
PSV
VT trigger adaptation
Frequency band ranges from 5 to 20 Hz.
Waves and loops
TFT multicolour graphic Touch screen, size 12″