charisma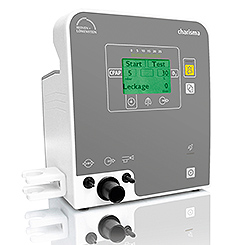 CPAP therapy in the 21st century
charisma is a state-of-the art device for constant positive airway pressure therapy.
Coloured touch screen: intuitive user guidance
Automatic flow adjustment and adaption
Unique: no reservoir bag needed
Dynamic leakage compensation
Cost efficiency by low gas consumption
Drug nebulizer
Direct input of oxygen concentration and PEEP
Gas mixture tables, readjustment of flow and uncertainties in mask leakages are things of the past. The user enters directly PEEP and oxygen concentration. charisma verifies the ventilation accessories used and guaranties the secure compliance of the parameters set.
Dynamic compensation of leakage
Older CPAP equipment, working with Continuous-Flow- Principle, had to be adjusted manually to the gas flows offered in order to compensate variable mask leakages. When the supply of flow was too low, the set PEEP value could not be realised and the danger of alveolar collapse appeared. charisma combines the established Demand- Flow with the Continuous-Flow-Principle, readjusts the necessary flow continuously and controls the PEEP set.
Individual alarm settings
There are fundamental differences in monitoring requirements of intensive care units, outpatient departments, wards and therapy wards. charisma allows the alarm adaption to the necessities of the clinical routine. Thereby requirements of apnea, alarms of low and high pressure values and alarm volume are directly adjustable via touch screen.
Innovative monitoring of leakage according to "traffic light principle"
charisma monitors existing mask leakages without interruption and adapts the inspiration flow consecutively. According to the traffic light, leakages are displayed visually and easily comprehensible.