CITREX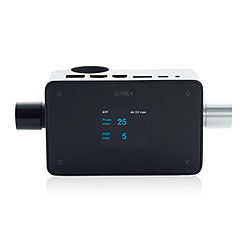 The compact and mobile testing device for ventilators.
CITREX was designed for mobile use and meets all the requirements of day-to-day field operations.
– Verification and calibration of ventilators
(hospital and homecare)
– Use in production plants
Simple operation
CITREX is simple and intuitive to operate. The colour screen offers excellent readability and can be adapted to any situation due to its flip-screen function.
Bidirectional flow measurement
The newly developed measuring method allows extremely precise, bidirectional flow measurement with low measuring resistance.
Gas standards and gas types
13 gas standards and 7 gas types can be measured so as to meet a range of measuring requirements.
Respiratory parameters
All the relevant respiratory parameters are measured and calculated.
Memory function
It is simple to save measurements on the device and export them to external data media for subsequent analysis.
Real-time graphs
The device measures flow, volume, four pressures, temperature and oxygen concentration.
Interfaces
Due to the numerous interfaces, the device is ideal for networking, remote control and configuration
A compact device with everything you need
CITREX is especially impressive due to its size, low weight and robust­ ness. All required components are integrated and the battery enables prolonged independent use.