FlowAnalyser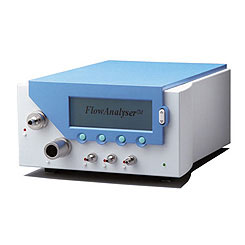 PF-300/PF-301 VAC/PF-302 LOW
Measuring your pneumatic equipment for reliability and precision with a dependable calibration tool is critical in avoiding fatal errors. Precision and reliability are exactly what the FlowAnalyser Product Line provides.
The FlowAnalyser ventilator tester measures flow, pressure, temperature, humidity and O2 concentrations bidirectionally. The one-of-a-kind Adult, Pediatric and High Frequency ventilation measuring modes make the FlowAnalyser the ideal calibration tool for all ventilators, anaesthesia machines and spirometers.
Our biomedical testing devices PF-300, PF-301 or PF-302 distinguishes themself from other calibration tools by combining a simple, intuitive multilingual user interface with the highest precision. With the push of a button, all measured values can be stored directly on the FlowAnalyser and later retrieved for documentation purposes. FlowLab software complements the FlowAnalyser Ventilator tester by offering a wide range of graphical analysis capabilities.